Every two years CBA members, experts, and enthusiasts assemble somewhere in the USA,
for several days of full-on engagement, presentations, and hands-on projects. Conference
attendees will gather + share skills, strengthen old connections, make new connections,
and increase their ability to create "Future Visions" for community built work. It is a venue
to embrace and engage critical and creative questions targeted to address key topics,
logistics, strategies, and emerging directions paramount to community built endeavors.
Participants will convene at the historic Cigar Factory and the home of the Clemson
University Design Center in Charleston, SC. Included in other conference events and
activities will be additional venues, project sites, and key locations.
REGISTRATION IS OPEN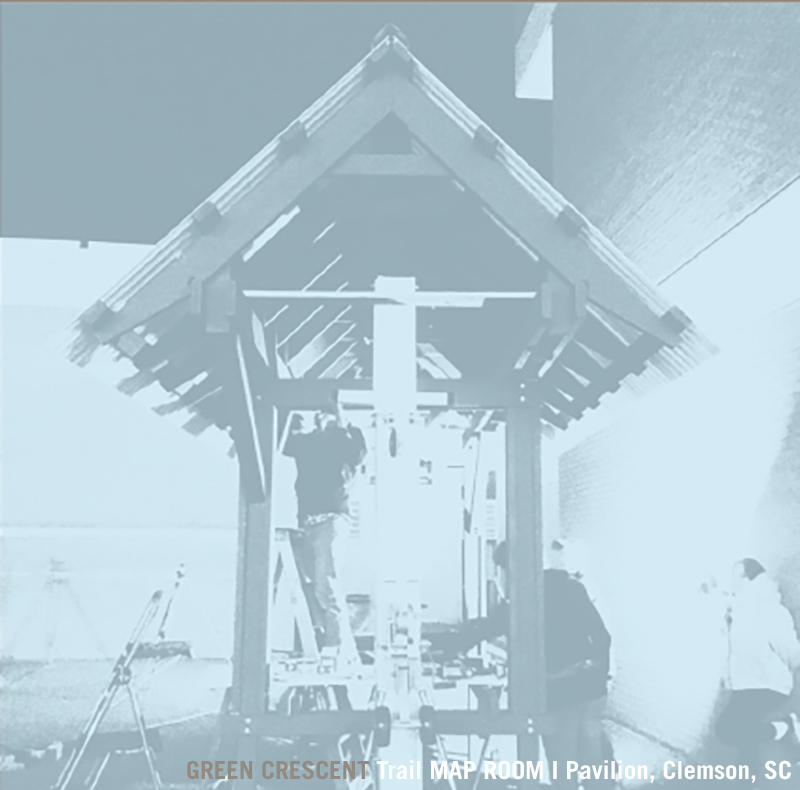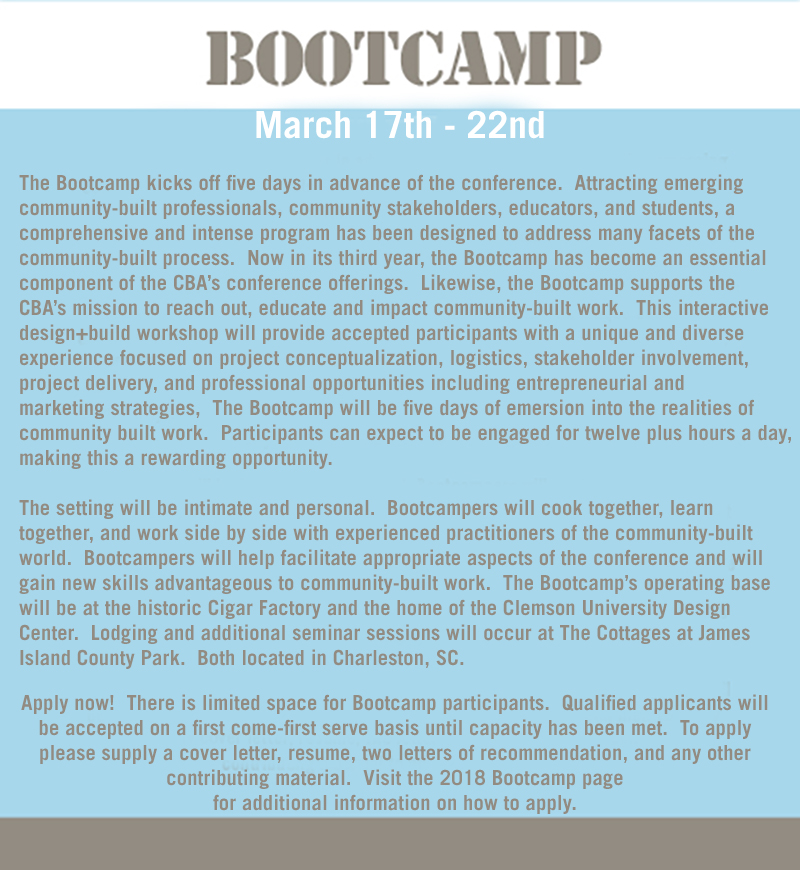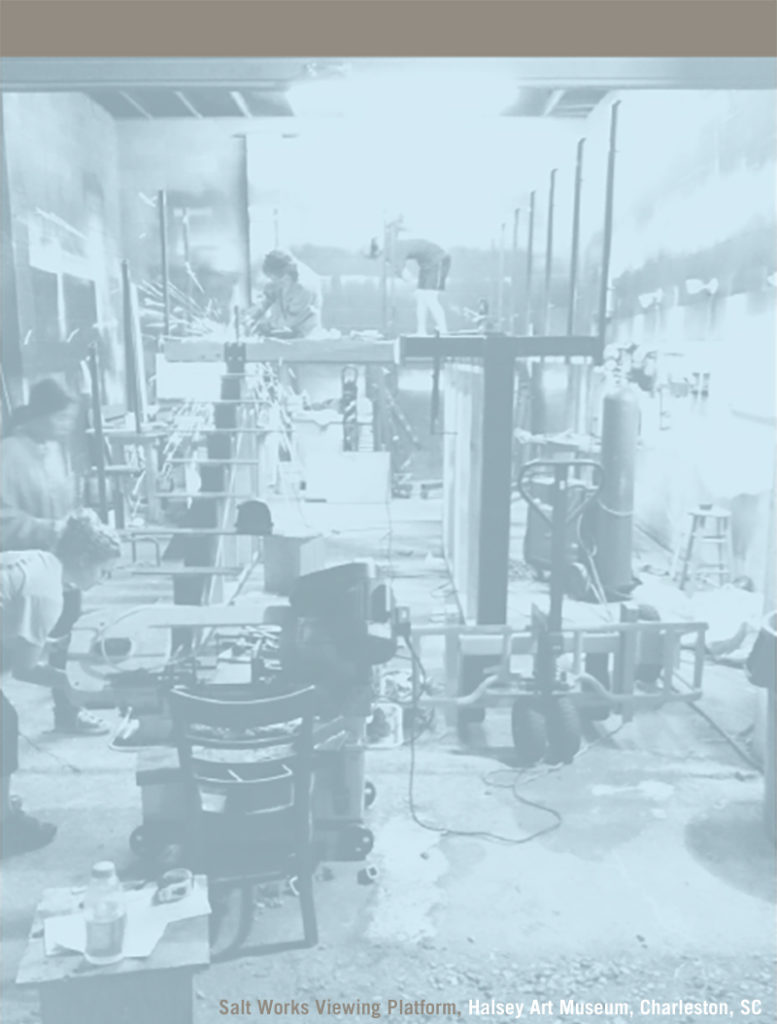 Community Built Association, Charleston, SC, March 22-25, 2018
The Community Built Association (CBA) is soliciting abstracts for presentations at it biennial conference to be held in Charleston , SC on March 22 – 25, 2018. Accepted submissions and session/panel participants will have the opportunity to provide their work for inclusion in an interactive digital CBA catalog documenting the events, people, and projects associated with the 2018 conference. The CBA seeks presentations about community-built projects and practices. Community-built is a process by which community volunteers come together with design professional in a collaborative effort resulting in the construction of shared local places and also in the building of community itself. Community-built projects commonly include but are not limited to play spaces, gathering places, public art (including murals and sculpture), neighborhoods and building, natural recreation areas, and community gardens. Perspectives from practitioners, academics, students, participants, and outside observers are all welcome. Proposals can include but are not limited to the following content examples:
** Case studies of community-built projects or processes **
** Profiles of practitioners working in the community-built field **
** Overviews of specifics project types (for example, community gardens or mural art) **
** Investigations of the impact of community-built projects **
** Reflections on the meaning and importance of community-built work **
** Lessons learned from community-built projects **
Indispensable Lessons
important questions
Likewise, the conference title, Future Visions: Education + Action, reflects the intent of the CBA to embrace critical and creative dialogue pertaining but not limited to the following ideas and questions. These topics are intended to challenge the conference presenters and attendees so that the lessons learned become INVALUABLE to the profession of community-built work.
Does Quality matter?
How should quality be assessed in community-built work? Community-build projects are not all completed to the same level of quality. All artists, designers, makers and community leaders/members do not have the same abilities. Should the community-built profession leverage its best work for future success in education and action?
What is the role of CRAFT?
What role should craft and skill play in community-built work? Does craftsmanship matter? How do communities invest the necessary time it takes to become "good" at some ability? Is it important to develop appropriate skills and methods for project implementation? Is there a difference between desired intent and actual outcome? How can communities embrace the virtues of acquired skill and craftsmanship that enhance future visions in community built work?
Can EDUCATION help?
What is the role education should play in community-built work? Should communities be educated to value creative work? Should artists and design professional be trained to pursue and incorporate community-built work into their respective disciplines? How can techniques and educational programs impact future visions in community-built work?
Is ENTREPRENEURISM a critical value?
What role does the entrepreneur play? Can one be a successful community artist/design professional and also build a viable business? How can community/creative entrepreneurs make strategic models for success and future visions in community-built work?
How important is SUSTAINABLE thinking and long term MAINTENANCE?
Many say that good ideas are a "dime-a-dozen", but lasting and easy to maintain ideas are scarce. How do good ideas become GREAT built projects? How does the relationship between wishful thinking and practicality impact community-built work? Are we looking critically at the impact of our thoughts and the lasting realities our endeavors have on communities?
How should community-built professionals look at TEMPORARY projects vs. more PERMANENT endeavors?
Getting the ball rolling and allowing for a taste of success via quick change is crucial to building community buy-in. However, short-lived projects with limited roots and commitment can be vulnerable over time. Likewise, long term initiatives may wear on the community's stamina and capacity to remain focused. What can community-built professionals do to ensure that project scopes and objectives are appropriate? What role does project delivery method have in establishing lasting impact and sustained vision for communities?
Are we VISIONARIES?
How can community-built work push the edges? Does our profession embrace the comfort of "doing goo" when we should be taking more risks? Do community-built professionals gravitate towards the pleasure of the masses to attract inclusion? Or, have community-built professionals lost too many edges?
Too BIG or too SMALL
Regarding corporate or local grass root strategies, which one has more impact? How does the community-built professional determine which career path to take, corporate or local grass root? Authenticity, sincerity, collective impact, and professional validation are all motivators for community-built professionals. Going big or staying small each presents its set of challenges and rewards. Is one way superior to the other?
Can POLICY and project organization support COLLABORATION
Can RFP's for new projects incorporate structure and support partnerships between architects, landscape architects, urban designers, community members, etc? Should we be doing more as community-built professionals to proactively impact policy, education, and municipal/institutional structure? Some conference sessions will directly reflect several of these topics. Both accepted presenters and invited panelists will be appropriately assembled to build critical mass ans spawn stimulating conversations.
Please submit abstracts (400-word max.) by December 15, 2017 to:
Dan Harding at CRDC@clemson.edu
Include in the submittal the following: author names, affiliation (if applicable), email address, the title of the proposal, 400 word maximum abstract, and whether you would be interested in having your work included in the digital CBA catalog.